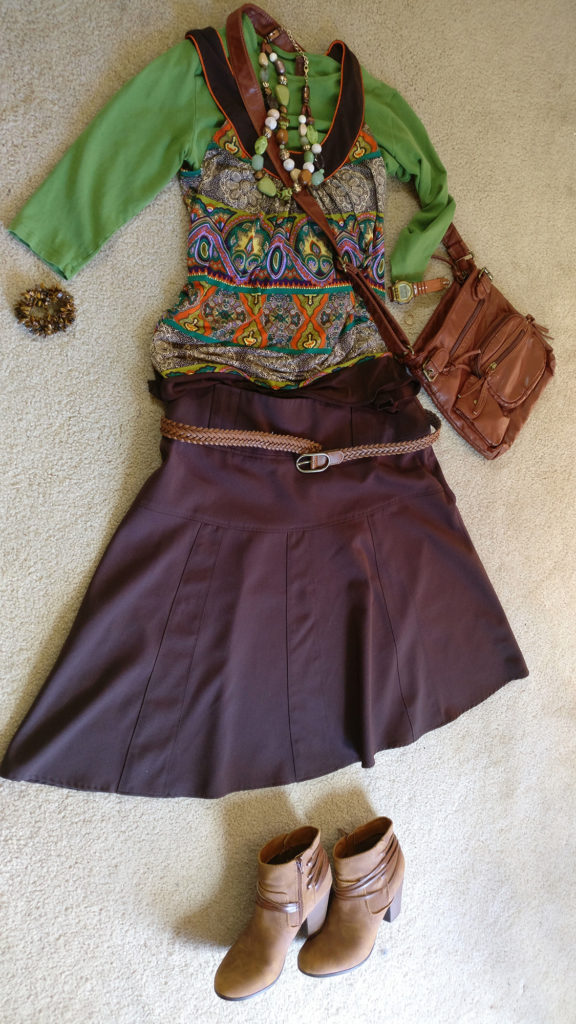 I hate wearing black and white. I know, I know, this is sort of minimalist blaspheme, but I can't help it. I just don't feel like myself when I am wearing them.
Obviously, this is about personal taste and there is nothing wrong with a black and white capsule, but if you've felt restricted and would like to add color and pattern to your wardrobe, read on.
When I first started designing my own capsule wardrobes, I began to wonder if I would have to put my personal aesthetic aside – most capsule wardrobes feature black, white and gray. This is probably because these colors have long been linked with a minimalist aesthetic. Regardless, I now feel as though I have cracked the code for colorful capsule wardrobes.
What is a Capsule Wardrobe?
A capsule wardrobe is a type of minimalist wardrobe that attempts to keep a clothing collection: cohesive and combinable.
This is so that clothing can be mixed and matched, making a small wardrobe feel filled with options. The emphasize is typically on quality over quantity and many capsule wardrobes have between 33 and 37 separate pieces. This number does not typically include: underwear, socks, PJs, work out gear, and specialty clothing, such as swimsuits. Most people also don't include shoes or accessories, though some do.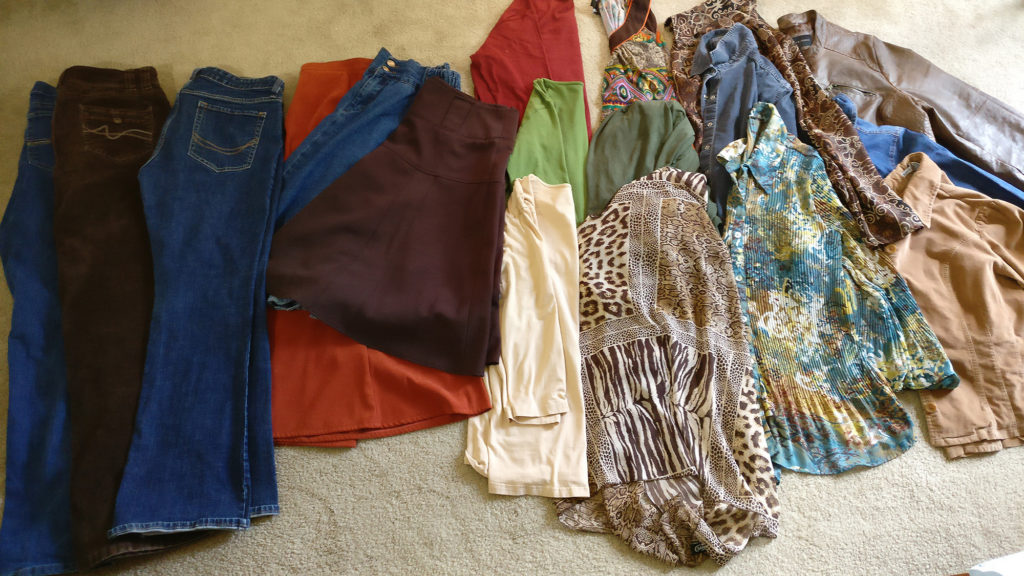 A Note About Colors:
Before we dive in, I need to talk a little about color theory. Consider the color green. Not all greens are created equal are they? There are muted gray-toned greens, rich dirty greens, mint greens and even that crayon box green. You know the one. It isn't ambiguous. It's green.
So, when you have a pure color, it is called a hue. That crayon box "green" is a prime example. But if you were to add white to it, a little or a lot, you get a kind of mint green.
If you add some black to it, a little or a lot, you get what is known as a shade of green. It kind of looks dirtier or richer. If you add gray to it, a little or a lot, you get a muted tone. It looks washed out.
Every color has these four variations (except for black, white, and gray). So sticking to one group (hues, tones, tints and shades) will bring a lot of harmony to your wardrobe.
Determining Your Colors:
The first step is to determine your personal color pallet. Don't sweat it, your closet actually will tell you what you like to wear. Simply, pick out all the pieces you love (leave out any you're so-so about) and lay them out (or hang them up) together.
Ask yourself: what colors do you love to wear? Which colors are gathering dust? Which colors seem to work especially well together?
After you've gotten clear on your personal colors, you'll want to figure out your neutrals. In many capsule wardrobes, these are black, gray, and white. But there are other options, such as tan, khaki, brown, Navy, olive, beige and jean.
Pay careful attention, though. Even though these colors are commonly thought to be neutrals, colors that more or less go with anything, brands will vary slightly in the undertone. For example, an olive can have a more muted gray-tone to it or a warmer gold undertone. Neither is better or worse, but consistency in your capsule is key.
My neutrals are: dark wash jean, browns and tans, and wheat with golden undertones.
Neutrals are great to stock up on. They make especially great bottoms (pants, shorts, skirts) and jacket layers. If one of your bottoms is in fact not a neutral (a base or accent color) then, you'll find that some tops won't work as well with it. I'm a green-fanatic, but I realized my mistake when I bought green pants. Most of my tops were ruled out when I put on my green bottoms unless I wanted to look like a leprechaun.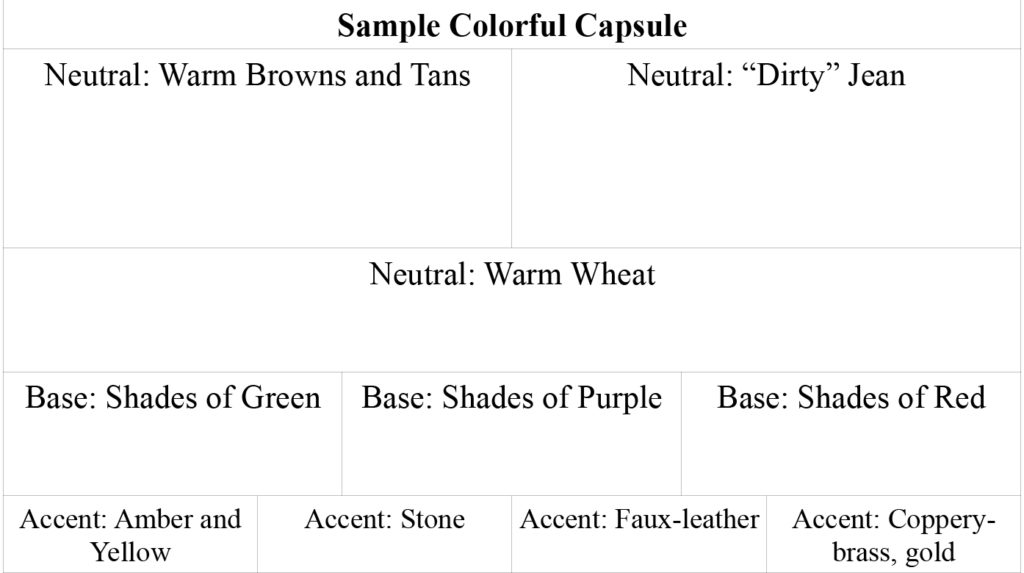 Next, you'll want to consider your base colors. These are the colors I tend to use in my shirts and blouses and scarves.
Mine tend to be: shades of green, blue and red. For a capsule wardrobe, 3 base colors is probably more than enough.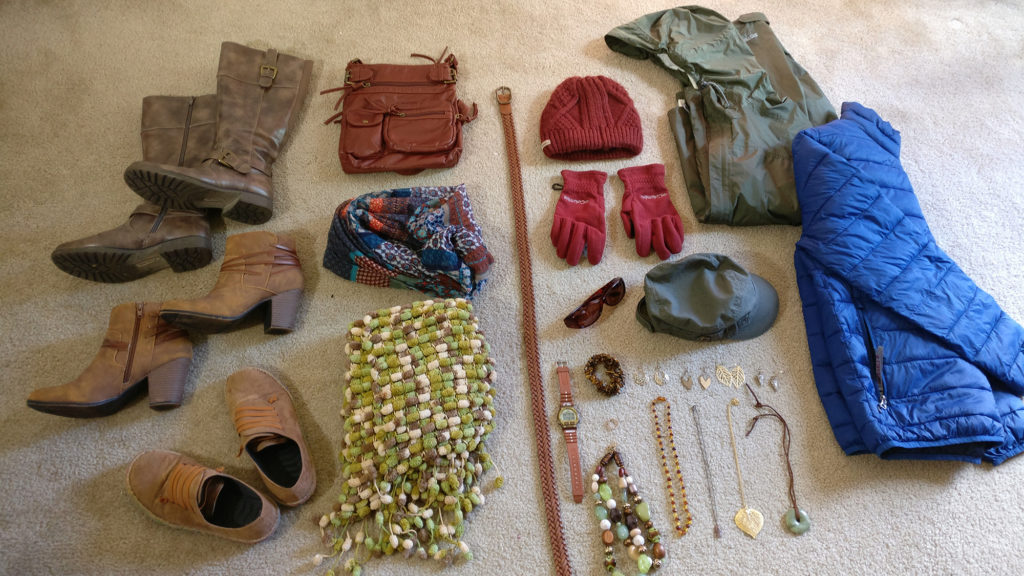 Next, you'll want to consider accents. These are your metals, materials, and pops of color. I like to use coppery-brass to gold metals and stay away from anything too silvery. I use a lot of faux-leather and amber and stone in my jewelry too, but that might be the bohemian vibe coming through. I have a few splashes of burnt orange and mustard-yellow.
Incorporating Pattern
In creating a minimalist wardrobe, sometimes we think we need to sacrifice pattern, but if you love pattern, don't sweat it. You can have pattern, you just need to be strategic about it.
One strategy is to have all your patterns on the bottoms (leggings, pants, shorts, skirts). Think about it, typically we don't wear more than one bottom at a time, so if all your patterns are here, you never have to worry about clashing patterns).
While there is nothing wrong with this strategy, it is harder to find great patterns for bottoms (unless you're a bohemian skirt enthusiast).
Another strategy is to pick a different layer that is never combined. My strategy goes something like this: I use neutral colors on the bottom, I wear patterns in my dresses, blouses and one of my scarves and I keep all other layers (jackets, blazers, vests, base layers, and other scarves) plain but in my base or neutral colors. This keeps everything cohesive yet colorful and very combinable.

This system has created the most potential combinations without clash that I have found. This is my secret.
It is my hope that if you've been interested in capsule wardrobes but turned off by a lack of color, you now have the tools to develop a capsule wardrobe that speaks to you.
Until next time, live lightly and shine brightly!